philips -bdp6500 -blu-ray disc/dvdplayer
M. A. Al-ZUBAIRI & BRO is one of the oldest, bigge...
Shipping & Delivery
Payment Methods
Our Advantages
 Buyer ProtectionWe want you to shop with confidence and worry less.Our Buyer Protection ensures that your purchases are covered in the event that you encounter a problem.
 Email notificationsYou receive Email messages about each stage of your order.
 Return and Exchange Policy . The goods must be in normal condition and have all the factory packages.
 Different Payment MethodsPay orders in convenient ways: cash on delivery, Electronic Wallets (Floosak, M Floos, Mahfathati and Cac Mobily ) right at the time of the order.
 Best PriceBig Sale, Great Offers and Best Prices
Please sign in to contact the vendor
Description
---
Blu-ray 3D and the best of Internet on your TV
3D Blu-ray Disc playback
Built-in WiFi
DivX Plus HD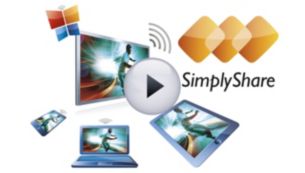 SimplyShare to connect & stream all entertainment wirelessly
Philips SimplyShare lets you share your music, movies & photos from tablet, smartphone & PCs to your home theater & Blu-ray player. You can stream all entertainment directly from your DLNA-enabled devices or use remote control to access & stream media files from your PC. For the best wireless experience, install the SimplyShare app on your tablet/smartphone. You are now ready to enjoy all your entertainment effortlessly.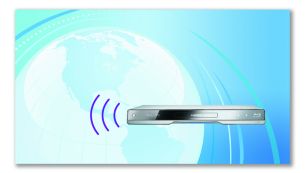 Built-in WiFi-n for faster, wider wireless performance
WiFi-n, also known as IEEE 802.11n, is the new wireless network standard. It includes many new options to improve the quality of the wireless link, offering faster speed and wider range compared to previous WiFi standards. WiFi-n also features backward compatibility, which makes it possible for this player to transmit to and receive from routers that operate on older WiFi standards.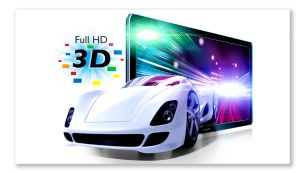 Blu-ray 3D Disc playback for a full HD 3D experience at home
Full HD 3D provides the illusion of depth for a heightened, realistic cinema viewing experience at home. Separate images for the left and right eyes are recorded in 1920 x 1080 full HD quality and alternately played on screen at a high speed. By watching these images through special glasses that are timed to open and close the left and right lenses in synchronization with the alternating images, the full-HD 3D viewing experience is created.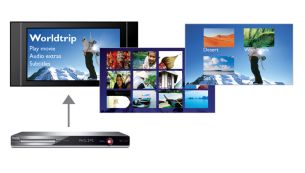 DivX Plus HD Certified for high definition DivX playback
DivX Plus HD on your Blu-ray player and/or DVD player offers the latest in DivX technology to let you enjoy HD videos and movies from the Internet direct to your Philips HDTV or PC. DivX Plus HD supports the playback of DivX Plus content (H.264 HD video with high-quality AAC audio in an MKV file container) while also supporting previous versions of DivX video up to 1080p. DivX Plus HD for true HD digital video.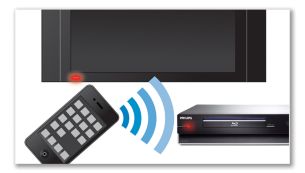 Turn your Smartphone into a remote for Philips AV products
The Philips MyRemote app lets you use your iPhone or iPod Touch or Android Smartphone as a remote to control your Philips networked AV products. The app automatically recognizes your* Philips Blu-ray player, Home theater or Streamium audio system connected to your home Wi-Fi network, and gives you instant control over the devices from anywhere in your home. And if you have more than one Philips networked AV product, the app will allow you to switch between them and control each one independently. This free app is created exclusively by Philips.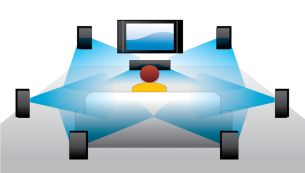 Dolby TrueHD for high fidelity 7.1 surround sound
Dolby TrueHD delivers 7.1 channels of the finest sound from your Blu-ray Discs. Audio reproduced is virtually indistinguishable from the studio master, so you hear what the creators intended for you to hear. Dolby TrueHD completes your high definition entertainment experience.
USB 2.0 plays video/music from USB flash/hard disk drive
The Universal Serial Bus or USB is an industry standard that allows high-speed, easy connection of peripherals to PCs, consumer electronics and mobile products. The USB 2.0 provides better and faster performance - up to 40 times quicker than the USB 1.0 and with a data transfer rate of up to 480 Mbps from the original 12 Mbps. When plugged in, everything configures automatically. With USB 2.0, simply plug in your USB portable devices or hard disk drives, select the movie, music or photo and play away.
المواصفات
Technical Specifications
Picture/Display

Aspect ratio

Blu-ray 3D

Full HD 1080p

D/A converter

12Bit/148MHz

Picture enhancement

High Def (720p, 1080i, 1080p)

Progressive scan

Video upscaling

Sound

D/A converter

24 bit, 192 kHz

Dynamic Range (1kHz)

=90 dB

Frequency response

(20kHz): = |0.2|dB (Max./Min. 2ch, DVD) Hz Hz

Signal to noise ratio

= 100 dB

Sound Enhancement

Night Mode

Sound System

Dolby Digital 5.1

Dolby Digital Plus

Dolby True HD

DTS Digital Surround

DTS-HD High Resolution Audio

DTS-HD Master Audio

Video Playback

BD Region Code

C

Compression formats

DivX Plus™ HD

H.264

MPEG2

MPEG4 (AVC)

XviD

MPEG1

Disc Playback Modes

A-B Repeat

Angle

Disc Menu

Pause

Repeat

Resume Playback from Stop

Search forward/reverse

Skip

Slow Forward

Standard Play

Zoom

DVD Region Code

5

Video Enhancement

Deep Color

Progressive Scan

Video Upscaling

x.v. Color

Audio Playback

Compression format

AAC

MP3

Ogg Vorbis

PCM

WAV

WMA

Still Picture Playback

Compression format

GIF

JPEG

JPEG HD

JPEG Progressive

PNG

Picture Enhancement

Rotate

Slideshow with music playback

Zoom

File Format

Audio

Picture

Video

asf

avi

divx

flv

m2ts

mkv

mov

mp4

mpeg

mpg

wmv

Optical Playback Media

Playable Discs

AVCHD

BD

BD R / BD RE

CD

CDDA

CD-R/CD-RW

DVD

DVD +R/+RW

DVD -R/-RW

SVCD

VCD

Connectivity

Front Connections

USB 2.0

Network connections

802.11 b/g/n

Built-in WiFi

Rear Connections

Analog audio Left/Right in

Digital coaxial out

Ethernet

HDMI output

USB 2.0

Composite video (CVBS) output

Smart TV Plus

Convenience

BD-Live(1GB USB memory needed)

yes

Child Protection

Parental Control

Ease of Use

Fast wake up

MyRemote app

EasyLink (HDMI-CEC)

21:9 format subtitle support

One touch play

One touch standby

Remote Control-Passthrough

Firmware upgradeable

Firmware upgradeable via USB

Online firmware upgrade

On-Screen Display languages

Czech

Danish

Dutch

English

Finnish

French

German

Greek

Hungarian

Italian

Norwegian

Polish

Portuguese

Romanian

Russian

Slovak

Spanish

Swedish

Turkish

Power

Power consumption

20 W

Power supply

Standby power consumption

0.3 W

Accessories

Included accessories

2 x AAA Batteries

Power cord

Product Registration Card

Quick start guide

Remote Control

User Manual

Product dimensions

Height

4.2 cm

Width

36 cm

Depth

21.9 cm

Weight

1.09 kg

Packaging dimensions

Packaging type

Carton

Number of products included

1

Type of shelf placement

Laying

Height

30 cm

Width

41.5 cm

Depth

8.7 cm

Gross weight

1.66 kg

Nett weight

1.26 kg

Tare weight

0.4 kg

EAN

87 12581 68632 1

Outer Carton

Number of consumer packagings

1

Length

41.5 cm

Width

30 cm

Height

8.7 cm

Gross weight

1.66 kg

Nett weight

1.26 kg

Tare weight

0.4 kg

EAN

87 12581 68632 1
What's in the box?
Other items in the box
2 x AAA Batteries
Power cord
Product Registration Card
Quick start guide
Remote Control
User Manual
Features
---
Reviews
---