philips - SB5200A/10 - wireless portable speaker
M. A. Al-ZUBAIRI & BRO is one of the oldest, bigge...
Shipping & Delivery
Payment Methods
Our Advantages
 Buyer ProtectionWe want you to shop with confidence and worry less.Our Buyer Protection ensures that your purchases are covered in the event that you encounter a problem.
 Email notificationsYou receive Email messages about each stage of your order.
 Return and Exchange Policy . The goods must be in normal condition and have all the factory packages.
 Different Payment MethodsPay orders in convenient ways: cash on delivery, Electronic Wallets (Floosak, M Floos, Mahfathati and Cac Mobily ) right at the time of the order.
 Best PriceBig Sale, Great Offers and Best Prices
Please sign in to contact the vendor
Description
---
Great sound · Ruggedized · Chainable
Bluetooth®
Audio-chain
Built-in microphone for calls
10W, rechargeable battery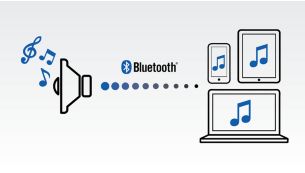 Wireless music streaming via Bluetooth
Bluetooth is a short range wireless communication technology that is both robust and energy-efficient. The technology allows easy wireless connection to iPod/iPhone/iPad or other Bluetooth devices, such as smartphones, tablets or even laptops. So you can enjoy your favorite music, sound from video or game wireless on this speaker easily.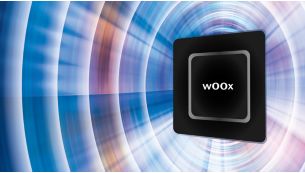 wOOx™ loudspeaker Technology for deep and powerful bass
wOOx technology is a revolutionary loudspeaker concept that allows you to hear and feel profoundly deep bass that is richer than any other audio system. Special speaker drivers work in harmony with the wOOx bass radiator, and precise tuning between the main driver and the tweeter ensures smooth transitions from low-mid to high frequencies. Dual suspension and a totally symmetrical sandwich construction deliver low and precise base without noticeable distortion. wOOx produces exceptionally deep and dynamic bass by using the speaker box full volume to truly magnify the impact of the music.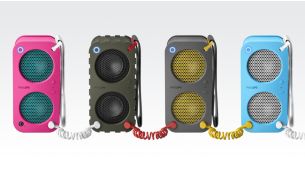 Chain multiple BR-1Xs into a bigger music system
To get bigger sound outdoor, chain together as many BR-1Xs as you want with the special by-pack audio cable. Once connected, volume on all BR-1Xs will synchronise. Simply change the volume on the BR-1X connected to your device to change it on all of them.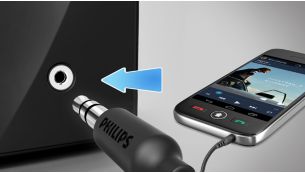 Audio-in for easy portable music playback
Make one easy connection and enjoy all your music from portable devices and computers. Simply plug your device to the AUDIO-IN (3.5 mm) port on your Philips set. With computers, the connection is typically made from the headset output. Once linked, you can enjoy your entire music collection directly, on a set of superior speakers. Philips simply delivers better sound.

2 selectable sound settings tuned for Outdoor and Indoor use
Two sound settings designed for your convenience and greater versatility, indoor mode and outdoor mode. Use Indoor mode when you want strong bass and crystal clear sound and Outdoor mode when you need maximum loudness and power in the open air.
Technical Specifications
Compatibility

iPad

iPad 1

iPad 2

new iPad

iPad mini

iPad with Retina display

iPhone

iPhone 3

iPhone 3GS

iPhone 4

iPhone 4S

iPhone 5

iPod touch

3rd generation or later

Android tablets & smartphones

with Android 2.1 and Bluetooth 2.1 or above

work with

Bluetooth 4.0 or below

other Bluetooth-enabled device

Yes

Connectivity

Bluetooth profiles

Bluetooth range

Line of sight, 10M or 30FT

Audio in (3.5mm)

Yes

micro USB port

to charge up BR-1X via PC

Convenience

Built-in microphone

for speaker conference

Sound

Output power (RMS)

2 x 5W

Sound System

Stereo

Volume control

up/down

Loudspeakers

Loudspeaker enhancement

wOOx Bass Radiator

Speaker drivers

2 x 2"

Power

Power supply

100-240VAC, 50/60Hz

Battery type

Lithium polymer (built-in)

Operating time on battery

6 hr

Accessories

Included accessories

AC Power Cord

hand strap

audio cable to chain up BR-1Xs

Warranty certificate

World Wide Warranty leaflet

Quick install guide

Dimensions

Product dimensions (WxDxH)

210 x 100 x 80 mm

Packaging dimensions (WxDxH)

260 x 110 x 110 mm

Product weight

0.5 kg

Weight incl. Packaging

0.95 kg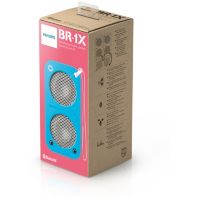 Other items in the box
AC Power Cord
hand strap
audio cable to chain up BR-1Xs
Warranty certificate
World Wide Warranty leaflet
Quick install guide
Features
---
Reviews
---