Philips - MMS4040F/94 - multimedia speakers 2.1
M. A. Al-ZUBAIRI & BRO is one of the oldest, bigge...
Shipping & Delivery
Payment Methods
Our Advantages
 Buyer ProtectionWe want you to shop with confidence and worry less.Our Buyer Protection ensures that your purchases are covered in the event that you encounter a problem.
 Email notificationsYou receive Email messages about each stage of your order.
 Return and Exchange Policy . The goods must be in normal condition and have all the factory packages.
 Different Payment MethodsPay orders in convenient ways: cash on delivery, Electronic Wallets (Floosak, M Floos, Mahfathati and Cac Mobily ) right at the time of the order.
 Best PriceBig Sale, Great Offers and Best Prices
Please sign in to contact the vendor
Description
---
Music, Movie & Entertainment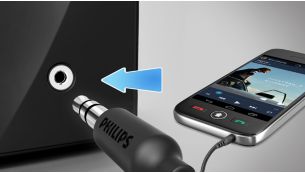 Audio-in for easy portable music playback
Make one easy connection and enjoy all your music from portable devices and computers. Simply plug your device to the AUDIO-IN (3.5 mm) port on your Philips set. With computers, the connection is typically made from the headset output. Once linked, you can enjoy your entire music collection directly, on a set of superior speakers. Philips simply delivers better sound.

Long tube design generates more bass
All gamers want their speakers to have as much bass as possible, and these speakers are specially designed to deliver the bass you want. The long tube design of this satellite speaker gives better quality sound with extended bass. This creates more volume to generate more bass and bring you more enjoyment from your games.

Rich bass
This Philips PC speaker provides good sound quality with a rich bass experience from a loudspeaker box system.
Technical Specifications
Loudspeakers

Subwoofer driver

5"

Speaker driver

3"

Connectivity

USB

Yes

Accessories

Included accessories

Remote control

User Manual

Warranty Card

2 RCA to stereo-1 no. cable

Dimensions

Satellite

W105 * H170 * D80

Subwoofer

W160 *H260 *D240

Packaging dimensions (WxDxH)

325 * 220 * 420

Audio system

Output power in total

40W

Speaker output power

2 x 10 W

Subwoofer output power

20 W

Tuner/Reception/Transmission

Tuner bands

FM
What's in the box?
Other items in the box
Remote control

User Manual

Warranty Card

2 RCA to stereo-1 no. cable
Features
---
Reviews
---