Kenwood Electronics Chef XL KVL4170S + gift Kenwood AT957 Ice Cream Maker
Shipping & Delivery
Payment Methods
Our Advantages
 Buyer ProtectionWe want you to shop with confidence and worry less.Our Buyer Protection ensures that your purchases are covered in the event that you encounter a problem.
 Email notificationsYou receive Email messages about each stage of your order.
 Return and Exchange Policy . The goods must be in normal condition and have all the factory packages.
 Different Payment MethodsPay orders in convenient ways: cash on delivery, Electronic Wallets (Floosak, M Floos, Mahfathati and Cac Mobily ) right at the time of the order.
 Best PriceBig Sale, Great Offers and Best Prices
Please sign in to contact the vendor
Description
---
Product information
Pros and cons
According to our stand mixer expert
Pros:

This stand mixer is supplied with an extensive accessory pack that includes a meat grinder and a pitcher attachment.

Pros:

In the spacious 6.7-liter mixing bowl, you can make a big batch of dough or batter in 1 go.

Pros:

A 1200-watt stand mixer is suitable for the long kneading time required for heavy dough like pizza or bread dough.

Con:

This stand mixer doesn't come with an extra mixing bowl that you can use to easily make various preparations.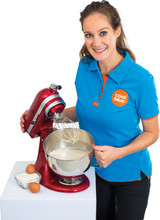 Product description
The Kenwood Chef XL KVL4170S features 1,200 watts of power and a stainless steel mixing bowl with a decent 6.7-liter capacity. In this stainless steel mixing bowl, you can knead up to 2.5 kg of pizza dough at once and prepare enough pancake batter for a whole street: you can make up to 4.5 liters of batter in 1 go. The meat grinder attachment will enable you to make your own sausages and mince from now on. In addition to a meat grinder, the stand mixer also comes with a blender attachment for making your favorite smoothies. If you're looking for a powerful kitchen machine with an extra-large mixing bowl, a meat grinder, and a blender, this is the machine for you.
Key specs
Preparation functions

Blending, Kneading, Making sausages, Mincing meat, To blend, Whisking
Vermogen prestatie

Powerful
Capacity

6,7 l
Large preparation

Large preparations (>5L)
Softstart

Yes
View all specifications
Included by default
Manual
K beater
Balloon whisk
Dough hook
Pitcher
Meat grinder
Spatula
Anti-splash lid
+ gift Kenwood AT957 Ice Cream Maker
Makes fresh, wholesome, home-made ice creams and sorbets
Double edged, polypropylene paddle fully combines all ingredients
The mixture is kept at optimum temperature for freezing process to take place for 18 hours
Note: Food Processor Attachment